By Karen Quackenbush – 2nd Grade Teacher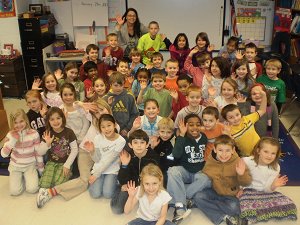 Columbus Signature Academy is a new project/technology based school in Columbus, Indiana.  Our curriculum is powered by student driven projects and the 21st Century skills of technology.  So our students determine what we will be working on, and teachers guide the process.
Our Well Project began when Olivia Linnemann, one of the students in my class, shared about her family's project to help build a well in Ethiopia.  Her family had adopted triplet babies from Ethiopia and decided that they wanted to help those people in Africa who needed clean water.  When Olivia shared this with the class during our morning meeting, Molly Dye, one of my other students, raised her hand and asked, "Could we help drill a well?  The whole class immediately jumped on board and became excited about helping other students like them far across the globe.  The idea that they, as 2nd graders, could help save lives, gave true meaning to project based learning.