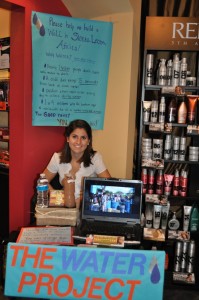 What do water wells in Sierra Leone, senior projects, spaghetti dinners, an auction,  a day spa  and an inspirational fundraising effort have in common?  Olivia Coury!
Olivia is a senior at Daniel High School and has been working on her Senior Project since early in the fall of 2010.  Olivia's passion for Africa and knowledge of the need for clean, safe water inspired her to fundraise for water projects in communities in Sierra Leone.  To date, Olivia has raised nearly $12,000.
In her research to find an organization to work with, Olivia said, "I wanted to hear stories of struggle, hope, and redemption–of real people with thoughts and feelings and ambitions. I guess what I'm saying is that The Water Project showed me, in a tangible way, the people behind the numbers that I wanted to help." And help she did.