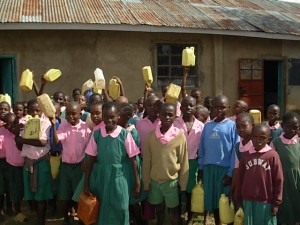 Update: Jan. 1, 2010
The drill crew has encountered hard rock formations which their drill cannot penetrate.  We are awaiting access to a compressor to break through.  We hope that arrives by Jan. 11th.
Updated: Oct. 7th, 2009
Construction is about to has begun on the Ikobero School and Community Well in Western Kenya. This community is located about 30km from Kakamega in the Busali Location.
Lat. 0.25136 N – Long. 34.62089 E
The school has over 600 students who, along with the 1,000 community members, will soon be enjoying clean and safe drinking water.