Introducing Global Benefit Coffee Company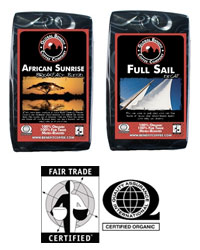 The Water Project is proud to announce a new partnership with Global Benefit Coffee Company. Through this unique relationship, we can now offer some of the best tasting, freshest coffee we've ever come across...and do a lot of good in the process.
Global Benefit Coffee is a non-profit organization too, which means all profits from sales support our work. This fair trade, organic coffee is also good for the growers, good for the environment, and good for you.
100% of the profits help us build more wells. The first projects they help support will be in Rwanda where some of the beans in the blend are sourced.
A Great Fundraiser
Would you like to sell Global Benefit coffee to raise money for wells? We'd love to chat. Coffee sales are a fantastic fundraiser. As a bonus, every bulk coffee order is fresh-roasted to order for your fundraiser! It's the freshest, best tasting coffee you can get (though we might be biased).
We have fundraiser kits ready to go. All you have to do is tell the story, take orders, collect the money and hand out coffee. It's a snap and people love it.
To learn more, contact us here »
About the Coffee
What is Fair Trade?
Buying Fair Trade can actually change the lives of some of the world's poorest people. Farmers earn greater incomes for their coffee and the returns are often invested in projects that help their communities thrive. Few people realize that agriculture workers in the coffee industry often toils in what can be described as "sweat shops in the fields". Many small coffee farmers end up receiving prices for their coffee that are less than the cost of production, forcing them into a cycle of poverty and debt. We work with farmers who have joined coffee co-operatives that ensure that are getting paid fairly for the coffee beans they have produced.
Fair Trade is a viable solution to this crisis, ensuring consumers that the coffee they drink was purchased under fair conditions. All of our coffee is Fair Trade Certified.
Why Organic?
You might wonder why our coffee tastes so good and why it does not have the acidic bite that many coffee have today? Well the answer is found in that we only use organic coffee beans. Organic coffee is grown without the use of chemicals, pesticides or chemical fertilizers; thereby insuring the health of the soil, forest, and farmers. The absence of these chemicals and pesticides is what gives our coffee the smooth taste with out the harsh bite. All our coffee is certified organic.