Broken Wells, Sick Children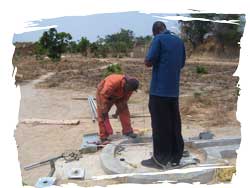 In many areas of Zambia, shallow water wells with hand pumps - dug many years ago - are the only source of clean drinking water. If they work at all, most are in terrible shape.
Young children and women walk several miles, up to five times a day, to reach a water well that works. When those are too far, people have no choice but to drink from surface water contaminated by human waste and garbage.
This causes great sickness and death in many instances. Repairing wells provides a source of clean drinking water, helping to greatly reduce death and illness due to waterborne disease.
Small investment in water brings big rewards
One of the most disheartening facts about the lack of access to clean water in Africa is that so often the solutions are just dollars away.
...perhaps the most cost effective way to give clean water.
While digging new wells in African countries can be expensive, in many communities...these wells already exist! The only problem is that for one reason or another they have broken down.
Repairing water well hand pumps and rehabilitating other wells is perhaps one of the most cost effective ways to give a community clean water. ...often less than $1 per person!
That's why were working with you to fund a number of water well repair in Zambia through our partner, Thirst Relief International. We need your help!

Page 1 | Page 2
** These photos were provided by Thirst Relief International, our implementing partner. We did not repair this particular well.