How a Weir (sand dam) Works
How Water is Collected in Weirs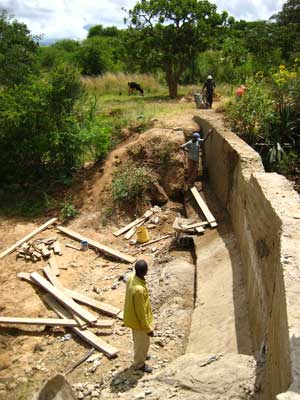 Weirs, check dams, or sand dams are very effective in storing the often intense tropical rainfalls that occur roughly twice a year in many areas of Kenya and sub-Saharan Africa.
During these rains, river channels fill with water for a few hours or days. The problem is, with no natural barriers to stop it, the rain water moves quickly out to sea.
Weirs block and store a large amount of this water without adversely affecting communities downstream. As they do, they create reservoirs, much like we have here, but on a smaller scale.
Communities draw water from these reservoirs to drink, irrigate crops and for use in construction. The seepage of water into the ground also helps to replenish the water table, which further aids crop production.
Building weirs close to villages means that people no longer have to walk long distances to often unreliable water sources. The community managed water team oversees the project and ensures it is maintained and protected. They guard the quality of water by preventing animals from having direct access to the water source. And they will help ensure water is filtered when needed.
How Your Donation Helps
Your gift provides technical assistance and supplies (rebar, concrete, forms, etc.) so that communities can build these small dams across a seasonal river channel near their village. You make it possible for them to help themselves.
The Water Project works hard to keep administrative costs to an absolute minimum. We have other donors who recognize the importance of keeping the lights on and paying for the internet connection, so you don't have to. Your donation to a water project will go directly to those groups bringing clean water to Africa.
On average a comprehensive weir project, including a shallow well pump, costs a total of $15-$20,000 for skilled labor and materials.