Middle/High School School Water Experiments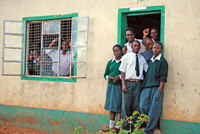 Your school can help provide clean water to students who have none.

Learn how an easy to do, ready to go fundraiser can change lives!

** PLEASE NOTE: All of the links in the "Resources" section of our website are provided for your convenience. The Water Project, Inc. does not endorse any of the linked content. The owners and creators of the content on these third-party sites are solely responsible for that content. If you have concerns about any of these links, please note its URL and contact us here.