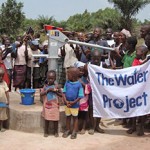 It's time to change a part of the world. My goal is to raise enough money to fund a well in Africa. Would you drink sewage? I wouldn't, either, so let's help the people who need clean water most.
I've teamed up with VISION at Eastern Michigan University to promote clean water and to build or repair a well in Africa. I challenge all of you to take the Water Challenge: drink only water for two weeks, and then donate the money you've saved to fund our well. If you have questions, come see me at the lobby tables in the Student Center and look for my flyers around campus. Thank you for your support!
---
Did you know nearly 1 billion people don't have safe water to drink?
Together, we can change that. Let's fund a new source of drinking water for those who suffer needlessly without it!
Our gifts will be used to construct or rehabilitate a water project, like a well or sand dam, in Africa. We'll see pictures, GPS coordinates, and updates as they come in from the actual water project we fund so we can celebrate the results along with the community we help.