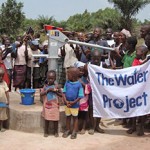 Sometimes we take for GRANTED simple things such as clean water, how easily we can satisfy our thirst or take a couple of showers on a hot summer day. It's heart breaking to realize how many people don't have that luxury, that necessity! And because of that, how much they suffer! So,my daughter, Kiria and I are teaming up to do something about it, we want to help because EVERYONE deserves clean, safe water to drink, to bathe in and cook with. We would also be VERY grateful if you could find it in your HEART to help us with our goal, your donation will be GREATLY appreciated! Help us, HELP the less fortunate. Thank you.
---
Did you know nearly 1 billion people don't have safe water to drink?
Together, we can change that. Let's fund a new source of drinking water for those who suffer needlessly without it!
Our gifts will be used to construct or rehabilitate a water project, like a well or sand dam, in Africa. We'll see pictures, GPS coordinates, and updates as they come in from the actual water project we fund so we can celebrate the results along with the community we help.