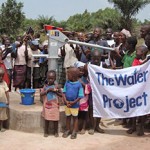 As a child my dream was to go to Africa and make a difference. I literally slept with a map of the continent pinned to the wall above my bed. I have since come to believe that we don't have to go across the world to make a difference, because pain and hurt and need are all around us, no matter where we are.
For the past year or so I have been drawn to organizations that build wells, because clean water is something that is fundamental for human health and survival, and it is also something that I never have to think about. It is something I take for granted. My family and I hope to fund a well in Uganda, and and we hope you will take the journey with us.
---
Did you know nearly 1 billion people don't have safe water to drink?
Together, we can change that. Let's fund a new source of drinking water for those who suffer needlessly without it!
Our gifts will be used to construct or rehabilitate a water project, like a well or sand dam, in Africa. We'll see pictures, GPS coordinates, and updates as they come in from the actual water project we fund so we can celebrate the results along with the community we help.