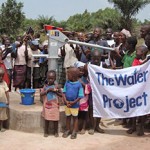 I was privileged to travel to Ghana in 2000. There I saw first-hand the horrors of children and adults in a small village, bathing and washing their clothes in contaminated ponds with no access to clean water for drinking or cooking. In my heart, I've wanted to play some part in raising money to help bring clean water to people who need it. I stumbled on this website a few months ago, and knew this was one way I could get started.
To celebrate my 60th birthday I want to do something meaningful, like help fund a water well. Please join me in this effort by giving what you can to bring fresh water to families in Africa. If you would like to learn more please take a look at the website.
---
Did you know nearly 1 billion people don't have safe water to drink?
Together, we can change that. Let's fund a new source of drinking water for those who suffer needlessly without it!
Our gifts will be used to construct or rehabilitate a water project, like a well or sand dam, in Africa. We'll see pictures, GPS coordinates, and updates as they come in from the actual water project we fund so we can celebrate the results along with the community we help.