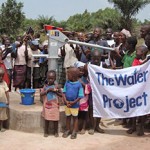 Juntos vamos fazer um mundo melhor, somos capazes de conseguir se cada um fizer sua parte. Eu estou dando o primeiro passo, mas vou precisar da ajuda de vocês nessa caminhada. Conto com a colaboração de cada um de vocês. Todos precisam de água. Estabeleci a primeira meta de 100 dólares, será meu primeiro desafio.
Quero desafiar você a deixar sucos, chás, refrigerantes, cerveja, cafés, e durante uma semana tomar apenas água como fonte líquida. Qualquer quantia será bem vinda. Espero contar com vocês.
---
Did you know nearly 1 billion people don't have safe water to drink?
Together, we can change that. Let's fund a new source of drinking water for those who suffer needlessly without it!
Our gifts will be used to construct or rehabilitate a water project, like a well or sand dam, in Africa. We'll see pictures, GPS coordinates, and updates as they come in from the actual water project we fund so we can celebrate the results along with the community we help.