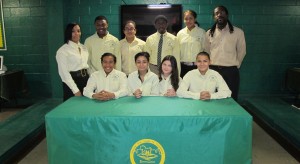 We the students of Bronx Green Middle School are fundraising to bring clean drinking water to communities lacking this basic human need. We're hoping to raise $6000, the amount it will cost to fund an entire village well.
Clean drinking water is a necessity that everyone should have acces to. Therefore, we're asking our classmates, teachers, friends, and families to help us make this a reality. We thank you in advance for your generosity and for helping to make this project a success.
At Bronx Green Middle School, we empower students academically, socially, and emotionally to consistently make wise choices.
---
Did you know nearly 1 billion people don't have safe water to drink?
Together, we can change that. Let's fund a new source of drinking water for those who suffer needlessly without it!
Our gifts will be used to construct or rehabilitate a water project, like a well or sand dam, in Africa. We'll see pictures, GPS coordinates, and updates as they come in from the actual water project we fund so we can celebrate the results along with the community we help.