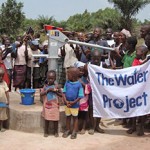 I decided to start fundraising money, because I have everything I need, friends and family, food and water, health and shelter. Not everyone is as fortunate as we are. Everyday without thought we walk over to our tap and get a glass of water, there are many people around the world that do not have this ability, this gift of fresh drinking water that many of us take for granted.
Please help me give to those in need of fresh drinking water, a little goes a long way! We appreciate your contribution!
---
Did you know nearly 1 billion people don't have safe water to drink?
Together, we can change that. Let's fund a new source of drinking water for those who suffer needlessly without it!
Our gifts will be used to construct or rehabilitate a water project, like a well or sand dam, in Africa. We'll see pictures, GPS coordinates, and updates as they come in from the actual water project we fund so we can celebrate the results along with the community we help.