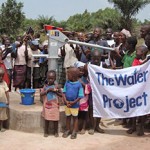 Water is one of the most basic human needs, without it, we cannot survive. It horrifies me that almost 1 billion people go without this basic human right while others take it for granted.
I hope that through this donations page, I can raise a total of $1,000, all of which will go directly to The Water Project, a fantastic charity who work with communities throughout Africa to make clean sources of drinking water a reality.
By providing a community with clean drinking water, it frees up time and resources to focus on other things like education and health; it also helps to improve gender equality through female management roles.
---
Did you know nearly 1 billion people don't have safe water to drink?
Together, we can change that. Let's fund a new source of drinking water for those who suffer needlessly without it!
Our gifts will be used to construct or rehabilitate a water project, like a well or sand dam, in Africa. We'll see pictures, GPS coordinates, and updates as they come in from the actual water project we fund so we can celebrate the results along with the community we help.