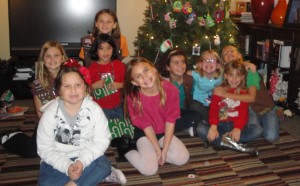 Dear friends and family, 
Brownie Troop 2614 is learning about how water impacts our world. A part of that journey has led us to learning about how lucky we are to have access to clean water. The girls voted to be a part of the Water Project and try to bring clean water to people in need. We will also be donating a percentage of our cookie money to the water project which will help us earn our Give Back Badge. So help us help others and donate today!! Love, Brownie Troop 2614 Ryann, Maya, Emma, Emilyn, Caroline, Michelle, Olivia, Amber, Rebekah, and Katelyn
---
Did you know nearly 1 billion people don't have safe water to drink?
Together, we can change that. Let's fund a new source of drinking water for those who suffer needlessly without it!
Our gifts will be used to construct or rehabilitate a water project, like a well or sand dam, in Africa. We'll see pictures, GPS coordinates, and updates as they come in from the actual water project we fund so we can celebrate the results along with the community we help.