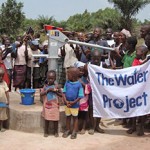 After writing my freshman speech on water scarcity, I knew this was a project that I wanted to contribute to. Being that I am so fortunate, I wanted to take this opportunity, my 16th birthday, to give back to a cause I feel very strongly about. I encourage you to read the stories and statistics on this website to learn more about lack of clean water and the many problems which result from it, affecting so many children and adults around the world.
Thank you for all your generosity and support to help me achieve my goal! Your contribution will make a difference in the lives of many!
Love, Christine
---
Did you know nearly 1 billion people don't have safe water to drink?
Together, we can change that. Let's fund a new source of drinking water for those who suffer needlessly without it!
Our gifts will be used to construct or rehabilitate a water project, like a well or sand dam, in Africa. We'll see pictures, GPS coordinates, and updates as they come in from the actual water project we fund so we can celebrate the results along with the community we help.