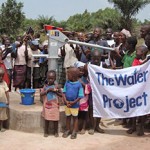 Hey everyone, I have everything I need and more, so this year for Christmas instead of presents I'm asking you to donate to this worthy cause.
Water is a basic need we all take for granted. People all over the world do not have access to clean, safe water. Providing access to water is a foundation to solving other problems. It is such a basic human need it's hard to believe people don't have it.
So this Christmas, please not only appreciate the clean water you have access to in abundance, but also donate so that people across the world can quench their thirst. Thank you so much!
---
Did you know nearly 1 billion people don't have safe water to drink?
Together, we can change that. Let's fund a new source of drinking water for those who suffer needlessly without it!
Our gifts will be used to construct or rehabilitate a water project, like a well or sand dam, in Africa. We'll see pictures, GPS coordinates, and updates as they come in from the actual water project we fund so we can celebrate the results along with the community we help.