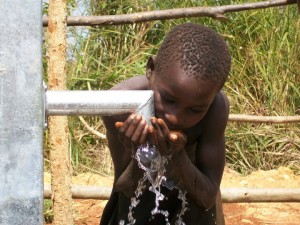 I learned about this issue through a NWACC World Civilization II class and I want to help. I remember what Jesus said about helping those in need: Then shall the King say unto them on his right hand, "Come, ye blessed of my Father, inherit the kingdom prepared for you from the foundation of the world: for I was hungry, and ye gave me to eat; I was thirsty, and ye gave me to drink; I was a stranger, and ye took me in; naked, and ye clothed me; I was sick, and ye visited me; I was in prison, and ye came unto me. Verily I say unto you, Inasmuch as ye did it unto one of these my brethren, even these least, ye did it unto me."
---
Did you know nearly 1 billion people don't have safe water to drink?
Together, we can change that. Let's fund a new source of drinking water for those who suffer needlessly without it!
Our gifts will be used to construct or rehabilitate a water project, like a well or sand dam, in Africa. We'll see pictures, GPS coordinates, and updates as they come in from the actual water project we fund so we can celebrate the results along with the community we help.