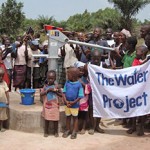 Thank goodness we have fresh clean water everyday, anytime we want!!! Can you imagine having to give your loved ones filthy, contaminated, horrible water to drink? Please, please, help us raise money for a well. What a blessing it is to share a little of the wealth we have here in America to give the precious, precious gift of clean water to those people, who through no fault of their own, do not have any. Please help! Thank you! What would just a month of clean water be worth to you? $100, $200, $500? Probably more than that....priceless.
---
Did you know nearly 1 billion people don't have safe water to drink?
Together, we can change that. Let's fund a new source of drinking water for those who suffer needlessly without it!
Our gifts will be used to construct or rehabilitate a water project, like a well or sand dam, in Africa. We'll see pictures, GPS coordinates, and updates as they come in from the actual water project we fund so we can celebrate the results along with the community we help.