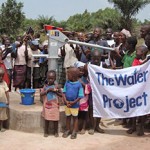 We live in a very fortunate country, this is a chance to help those who do not have anything.
This is not a monthly donation or anything like that. I was just hoping we could all band together to make a one off donation no matter how small. I know people try not to think about what the poorest people of the world are doing right now, but thinking about that moment can bring out the best in people.
If you need more encouragement donations over $2 are tax deductible.
Thanks guys,
Hoppo
---
Did you know nearly 1 billion people don't have safe water to drink?
Together, we can change that. Let's fund a new source of drinking water for those who suffer needlessly without it!
Our gifts will be used to construct or rehabilitate a water project, like a well or sand dam, in Africa. We'll see pictures, GPS coordinates, and updates as they come in from the actual water project we fund so we can celebrate the results along with the community we help.