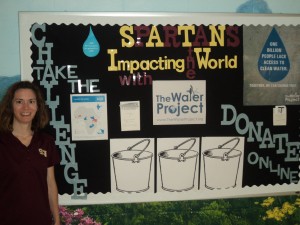 At the end of two weeks the student have raised $2,906.37 toward our goal of $7,500.00. The donation site will continue until the end of October so please continue to spread the word to the community to help us build a well.
The theme is "What are you going to give up to give back?" The Water Challenge is a two week commitment to DIVERT money spent on beverages like soda, coffee, etc. and drink a glass of free water. The money you would of spent on the other beverages will go toward the project. This challenge allows you to move money that would have gone to CONSUMPTION over to a valuable CONTRIBUTION.
---
Did you know nearly 1 billion people don't have safe water to drink?
Together, we can change that. Let's fund a new source of drinking water for those who suffer needlessly without it!
Our gifts will be used to construct or rehabilitate a water project, like a well or sand dam, in Africa. We'll see pictures, GPS coordinates, and updates as they come in from the actual water project we fund so we can celebrate the results along with the community we help.