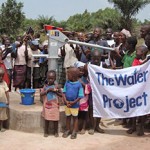 Our easy access to water, whether it be right from the tap or purchased in bottles, is taken for granted. It's easy to quench thirst when water is so readily available, but imagine not having that luxury. 
For this holiday season, help me reach my goal of raising $500.00 to help fund clean, sanitary access to water in communities in sub-Sahara Africa, where The Water Project works to dig wells, construct small sub-surface dams, catch the rain, protect fresh-water springs, filter surface water, and maintain proper sanitation and hygiene practices. 
---
Did you know nearly 1 billion people don't have safe water to drink?
Together, we can change that. Let's fund a new source of drinking water for those who suffer needlessly without it!
Our gifts will be used to construct or rehabilitate a water project, like a well or sand dam, in Africa. We'll see pictures, GPS coordinates, and updates as they come in from the actual water project we fund so we can celebrate the results along with the community we help.