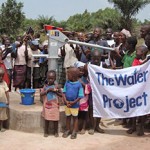 My name is Grace. I am a Kingdom worker, a kingdom worker is someone who goes and spreads the love of God's word through doing things that no one normally would. Let's be kingdom workers together, I believe God has called me here to do this because, there is no such thing as a little kingdom worker, or a big one. I am not asking for you to donate, think about it, imagine how many people will live because of your offering. Each and every single one of us has done something that has impacted ones life, Jesus died to save us. Now, it's our turn to live in his one true name, like he called me and you to do. Let's change someone's life today, give back, and see what the power of God can do! 
---
Did you know nearly 1 billion people don't have safe water to drink?
Together, we can change that. Let's fund a new source of drinking water for those who suffer needlessly without it!
Our gifts will be used to construct or rehabilitate a water project, like a well or sand dam, in Africa. We'll see pictures, GPS coordinates, and updates as they come in from the actual water project we fund so we can celebrate the results along with the community we help.