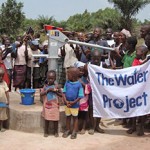 We, as a grade 7/8 class, have been researching global inequalities and fresh water shortages. We recognize that we live in a part of the world that has an abundance of clean drinking water and would like to help others that may not be as lucky as we are.
We have, as a class, pledged to drink only water as part of the Water Challenge. We will be donating the money we save from not buying other drinks to the water project.
We are blogging our progress through this challenge, check it out:
http://ourh2ochallenge.blogspot.ca/
Comments or donations are greatly appreciated.
---
Did you know nearly 1 billion people don't have safe water to drink?
Together, we can change that. Let's fund a new source of drinking water for those who suffer needlessly without it!
Our gifts will be used to construct or rehabilitate a water project, like a well or sand dam, in Africa. We'll see pictures, GPS coordinates, and updates as they come in from the actual water project we fund so we can celebrate the results along with the community we help.