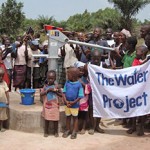 A água é a dádiva mais graciosa dada a nós por Deus, entretanto, por inúmeros motivos, a distribuição dessa para o mundo é incoerente. Principalmente países da África Subssaariana sofrem intensamente pela falta de água.O número de crianças que morrem por desidratação é imenso, e cresce exponencialmente a cada ano.
Por isso, faça um teste, não trate essas crianças apenas como mais uma no mundo, mas sim como filhos de alguém, irmão, neto ou futuros profissionais que faram a diferença pra você e para mim! A doação de água é algo que parece inofensivo perante a tantos desastres que acometem o mundo, mas é essa diferença que interferirá em um ciclo de mortes por desidratação. AJUDEM!
---
Did you know nearly 1 billion people don't have safe water to drink?
Together, we can change that. Let's fund a new source of drinking water for those who suffer needlessly without it!
Our gifts will be used to construct or rehabilitate a water project, like a well or sand dam, in Africa. We'll see pictures, GPS coordinates, and updates as they come in from the actual water project we fund so we can celebrate the results along with the community we help.