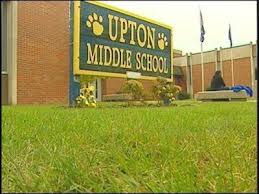 The 6th grade students at Upton Middle School just read a story (Ryan and Jimmy and the Well in Africa that Brought Them Together) and we became inspired. Sixth grade inspiration can be a powerful tool, and we are looking to harness ours.
Within a week of the story we had decided to help and wanted to get the whole school involved. From Nov. 7 - 21 we challenged our middle school to participate in the water challenge with us. For those two weeks we will drink water, to give water.
Please join us in taking the water challenge, or support our goal of raising $2000 to help support the Water Project and their mission.
---
Did you know nearly 1 billion people don't have safe water to drink?
Together, we can change that. Let's fund a new source of drinking water for those who suffer needlessly without it!
Our gifts will be used to construct or rehabilitate a water project, like a well or sand dam, in Africa. We'll see pictures, GPS coordinates, and updates as they come in from the actual water project we fund so we can celebrate the results along with the community we help.