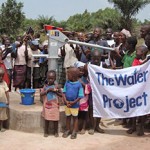 John 7:37 - In the last day, that great [day] of the feast, Jesus stood and cried, saying, If any man thirst, let him come unto me, and drink.
Our goal is for 43 people to give (minumum $23) within 21 days. This totals to $1000. This will be combined with other fundraisers to sponsor a brand new well, which generally lasts 500 people 10 years!
Thank you for your support!
---
Did you know nearly 1 billion people don't have safe water to drink?
Together, we can change that. Let's fund a new source of drinking water for those who suffer needlessly without it!
Our gifts will be used to construct or rehabilitate a water project, like a well or sand dam, in Africa. We'll see pictures, GPS coordinates, and updates as they come in from the actual water project we fund so we can celebrate the results along with the community we help.