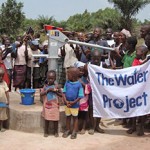 Clean water is so important in every culture. It is a particularly vital need in countries struggling with poverty.
I traveled to Haiti in 2005, and have seen such poverty up close. When I read that just $10 will provide one person with adequate clean water for TEN years, I just had to get involved.
There are not many initiatives where such a modest gift can do so much!
---
Did you know nearly 1 billion people don't have safe water to drink?
Together, we can change that. Let's fund a new source of drinking water for those who suffer needlessly without it!
Our gifts will be used to construct or rehabilitate a water project, like a well or sand dam, in Africa. We'll see pictures, GPS coordinates, and updates as they come in from the actual water project we fund so we can celebrate the results along with the community we help.