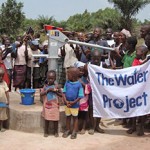 Hello everyone! Kelly here. June 9 is my birthday, and I am so lucky to be in a wonderful place in my life where I am financially and emotionally well off. Unfortunately there are many people in the world who cannot say the same -- in fact, many lack basic necessities like access to clean water. If you'd like to wish me a happy birthday, feel free to do so! But if you feel the inclination and you're in the position to do something more, please give to someone who needs it. You have the opportunity to change their life forever. This is an organization very close to my heart, and every little bit helps! Thank you for thinking of me and others on my special day!
---
Did you know nearly 1 billion people don't have safe water to drink?
Together, we can change that. Let's fund a new source of drinking water for those who suffer needlessly without it!
Our gifts will be used to construct or rehabilitate a water project, like a well or sand dam, in Africa. We'll see pictures, GPS coordinates, and updates as they come in from the actual water project we fund so we can celebrate the results along with the community we help.