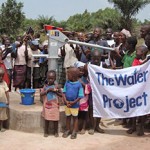 Just $10 supplies a child with clean water for 10 years. Think about that for a moment. What does $10 mean to you? 
I've had times in life where $10 was a lot of money. But no matter how difficult life has gotten, I've always had clean water. I know there are innumerable charities and causes out there, but for me, access to clean water is such a basic, essential human need that it seems unimaginable that so many families don't have it. If I meet or exceed my goal, I will be about halfway to building a well. Put differently, 150 children will have clean water. For TEN YEARS. Please help if you can!
---
Did you know nearly 1 billion people don't have safe water to drink?
Together, we can change that. Let's fund a new source of drinking water for those who suffer needlessly without it!
Our gifts will be used to construct or rehabilitate a water project, like a well or sand dam, in Africa. We'll see pictures, GPS coordinates, and updates as they come in from the actual water project we fund so we can celebrate the results along with the community we help.