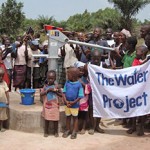 Thanks for helping!
In the words of St. Paul the Apostle, In everything I did, I showed you that by this kind of hard work we must help the weak, remembering the words the Lord Jesus Himself said: "It is more blessed to give than to receive." Acts 20:35
Among us, who is above must be in service of the others. This doesn't mean we have to wash each other's feet every day, but we must help one another. Pope Francis
---
Did you know nearly 1 billion people don't have safe water to drink?
Together, we can change that. Let's fund a new source of drinking water for those who suffer needlessly without it!
Our gifts will be used to construct or rehabilitate a water project, like a well or sand dam, in Africa. We'll see pictures, GPS coordinates, and updates as they come in from the actual water project we fund so we can celebrate the results along with the community we help.