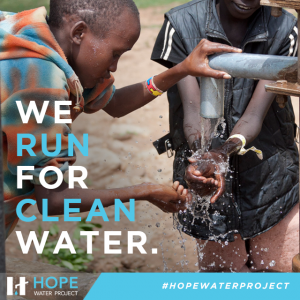 We are running with purpose.
In just 2 weeks we are running with Team Venture and Hope Water Project to bring clean water to the Pokot Tribe in Kenya.
Glen and I are excited for the opportunity to run for such a great cause. We take clean water for granted while there are places in our world where they don't have access to any clean water. I am not a runner and Glen struggles with his heel issues, but today we run to help raise money for the Hope Water Project so more people can have life saving water.
Please visit our joint profile page on HopeWaterProject.org to see how you can help!
---
Did you know nearly 1 billion people don't have safe water to drink?
Together, we can change that. Let's fund a new source of drinking water for those who suffer needlessly without it!
Our gifts will be used to construct or rehabilitate a water project, like a well or sand dam, in Africa. We'll see pictures, GPS coordinates, and updates as they come in from the actual water project we fund so we can celebrate the results along with the community we help.