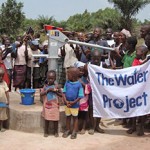 We have been so blessed and are constantly given more than we need. Please help us spread some of our good fortune and make a difference in the lives of others!!!
Hailey says, "Please give money to the African kids because they have filthy wather. It is important because they don't have much water. If you give money to them, it will help them survive."
Aubrie says, "I don't want the kids to drink pee water!"
Out of the mouths of babes :-) Any little bit will help...we will be anxiously awaiting the day we meet our goal!!
Thank you,
Scott, Nicole, Hailey, Aubrie and Kamryn
---
Did you know nearly 1 billion people don't have safe water to drink?
Together, we can change that. Let's fund a new source of drinking water for those who suffer needlessly without it!
Our gifts will be used to construct or rehabilitate a water project, like a well or sand dam, in Africa. We'll see pictures, GPS coordinates, and updates as they come in from the actual water project we fund so we can celebrate the results along with the community we help.