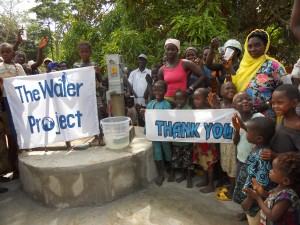 Healthy societies start with clean drinking water. Deaths and disease from lack of or unhealthy water is one of the largest killers in the world. 1 well cost an average of only $10,000 and saves generations of lives. Can you imagine drinking dirty water mixed with sewage? Please join me in spreading the word. A small donation, 1 less Starbucks this week, can save lives and spread the love of Christ, as shown to you with spiritual and financial blessings, to less fortunate throughout the World!
Check out the death count today: http://www.theworldcounts.com/counters/interesting_water_facts/dirth_water_diseases
---
Did you know nearly 1 billion people don't have safe water to drink?
Together, we can change that. Let's fund a new source of drinking water for those who suffer needlessly without it!
Our gifts will be used to construct or rehabilitate a water project, like a well or sand dam, in Africa. We'll see pictures, GPS coordinates, and updates as they come in from the actual water project we fund so we can celebrate the results along with the community we help.