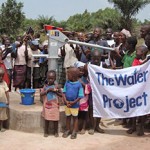 We think it's horrible that 4500 kids die every day because they don't have access to clean water and that in most cases the only thing preventing this is money. We think it's horrible that many kids in Africa are unable to get an education because most of their day is spent getting water for their families. We think it's horrible that many women and children risk being assaulted or attacked from wild animals because they need to walk up to 7km to reach their water source each day.
We know we can make a difference!
We are giving it up so we can give it away!!!
Ask how you can make a difference by joining us in our water challenge.
---
Did you know nearly 1 billion people don't have safe water to drink?
Together, we can change that. Let's fund a new source of drinking water for those who suffer needlessly without it!
Our gifts will be used to construct or rehabilitate a water project, like a well or sand dam, in Africa. We'll see pictures, GPS coordinates, and updates as they come in from the actual water project we fund so we can celebrate the results along with the community we help.