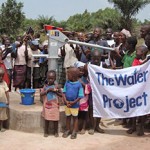 CrossFit Kids Jozi has been nominated for the ice bucket challenge.
An important factor of CrossFit is that it contains Functional movements and also that it is a evidence based program.
So in the true CrossFit spirit of things, instead of just dumping a bucket of ice water on our heads, we choose to participate in this challenge ensuring that our participation is functional. So the our participation will function to raise funds for the Water Project who work to provide clean water for people without access to it. The evidence of our success will be measured by how much we manage to raise!
---
Did you know nearly 1 billion people don't have safe water to drink?
Together, we can change that. Let's fund a new source of drinking water for those who suffer needlessly without it!
Our gifts will be used to construct or rehabilitate a water project, like a well or sand dam, in Africa. We'll see pictures, GPS coordinates, and updates as they come in from the actual water project we fund so we can celebrate the results along with the community we help.