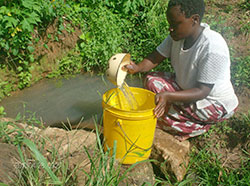 Hi Everyone,
I'm raising funds to help bring water to villages in various countries like Africa and India.
Have you ever had your water shut off just for a day? Its incredible the number of times you find yourself reaching for the tap and not being able to get water. Well, nearly 1 Billion people don't have access to clean water 24/7. They end up in a cycle of illness, and poverty.
I set a $30,000 goal because I have over 3000 friends here. And if we just put in $10 bucks, we've got our goal!
Water is the life blood of everything on this planet!
I hope you can donate $10 at least! Love you guys!
---
Did you know nearly 1 billion people don't have safe water to drink?
Together, we can change that. Let's fund a new source of drinking water for those who suffer needlessly without it!
Our gifts will be used to construct or rehabilitate a water project, like a well or sand dam, in Africa. We'll see pictures, GPS coordinates, and updates as they come in from the actual water project we fund so we can celebrate the results along with the community we help.