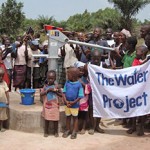 LEAF Club stands for Leading an Environmentally Aware Future. We are an ecology club at Dunlap High School, and, as of April 2012, we are supporters of The Water Project.
Our goal for fundraising is to reach $1000. Maybe one day we can raise $7,000 – enough money to
construct one well. Through donations and teamwork, our school club can reach goal and maybe even more for future years.
We can do this. Today's youth CAN make a difference… after all, the question is
not "Why?" but "Why not?"
- Veronica
---
Did you know nearly 1 billion people don't have safe water to drink?
Together, we can change that. Let's fund a new source of drinking water for those who suffer needlessly without it!
Our gifts will be used to construct or rehabilitate a water project, like a well or sand dam, in Africa. We'll see pictures, GPS coordinates, and updates as they come in from the actual water project we fund so we can celebrate the results along with the community we help.