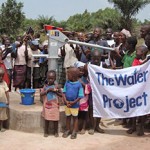 For our Anthropolgy class, we are doing a project called "Take Action". We are suppose to fundraise for a cause that we feel strongly about. We picked The Water Project, which raises money for an African community that is in need of clean, safe water. This organization is able to provide the following projects with our help: build sustainable wells, repair unfit wells, offer sanitation and hygiene training, and build dams and rainwater catchers. Please support our cause. Anything you give will make a difference in someone else's life.
Thank you for your support,
-Kirstie, Lacey, and Rachel
---
Did you know nearly 1 billion people don't have safe water to drink?
Together, we can change that. Let's fund a new source of drinking water for those who suffer needlessly without it!
Our gifts will be used to construct or rehabilitate a water project, like a well or sand dam, in Africa. We'll see pictures, GPS coordinates, and updates as they come in from the actual water project we fund so we can celebrate the results along with the community we help.