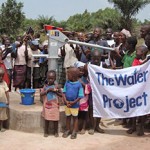 Hello,
Thank you for coming to my 20th birthday celebration, but I want to not live in the spotlight the entire day. Instead, I want to share the attention with some causes that are close to my heart. One of these causes include getting clean water to areas around the world that need them most, and I believe that The Water Project is doing that well and frequently!
I ask that you donate at least $10, but feel free to donate more than that amount or to more than one cause. Thank you for coming again, and thank you for your donation!
God bless you and yours,
Angelica Moore
---
Did you know nearly 1 billion people don't have safe water to drink?
Together, we can change that. Let's fund a new source of drinking water for those who suffer needlessly without it!
Our gifts will be used to construct or rehabilitate a water project, like a well or sand dam, in Africa. We'll see pictures, GPS coordinates, and updates as they come in from the actual water project we fund so we can celebrate the results along with the community we help.