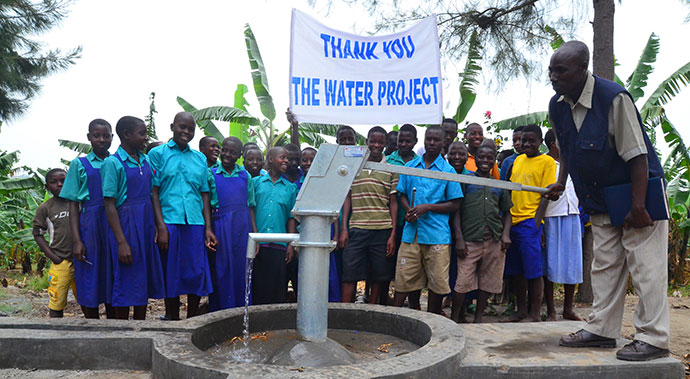 You, your school, church or even a group of your friends can choose to fund an entire clean water project in Kenya, Sierra Leone, Uganda, or Rwanda.
Cost and project availability vary, but on average a village sized water project can be completed for between $12,000-$15,000. The costs include preparing the community for a water project, actual construction and the long-term monitoring and evaluation needed to make sure your investment lasts a very long time.
All it takes is a bit of passion and a little time to change someone's world.
Our goal is to provide you with the information you need to confidently partner with us in funding a well project. We also want to help you host a hugely successful fundraiser.
If you can't find the information you need below, or you'd just like to chat, please don't hesitate to call us at 800-460-8974.
How much does is cost to fund a well / water project?
This is perhaps our most common question and the answer isn't one price fits all.
We also believe it's vitally important for our donors to know the true costs of building a water project, from start to finish. We don't subsidize costs with shadow donors and we make sure we're meeting our partners true needs to build excellent and sustainable projects.
The average total project costs as of 12/1/2012:
Well Restoration: $4,500 - $6,500
Spring Catchment/Protection: $6,500
Community Sized Water Projects in Kenya, Rwanda, South Sudan, Uganda: $12,000 - $27,000
Wells for Schools and Medical Clinics: $19,000 - $30,000
Various factors including water depth, rock formation, distance from the drilling HQ, and other considerations mean that no two wells are ever the same. We'll work with you to find a project that fits your fundraising goals.
Please remember that you do NOT need to fund an entire project to see the specific village you help. If you raise $2,000 or even $20, we'll combine your gifts with others and apply it to a single water project. Then, you'll see the results as it's constructed.
What happens after I donate or fundraise?
The process of sponsoring a well in Africa is simple.
Once you have raised the money and/or made a donation to The Water Project, Inc., we will assign the gifts to the next available well site on our ever-growing list. You can select a country we work in or let us choose.
We work very hard to keep our drillers busy, and try to ensure they always have a back-log of work. That simply means that your project will be constructed about 8-12 months after your donation. Please note that if you indicate a specific country for your gift, it may take a bit longer if our partners are booked up.
We won't send your donation to the field until just before it's ready to dig - keeping everything safe, secure...and accountable.
Can I sponsor only part of a water project?
Yes! And no matter how much you donate, we'll show you the specific project where your gifts were used to help build a well...every time.
What am I paying for?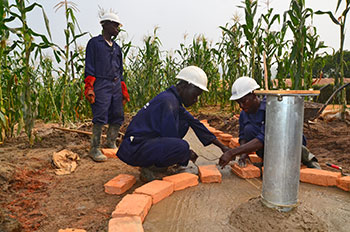 A water project costs more than just the well.
To ensure each project is done right and lasts for many years, there are three essential phases to every project including:

Site selection & community education
Project manangement & construction
Long-term monitoring & evaluation
The majority of your donation goes to our field implementers in the construction phase. They use it to pay for supplies, well pumps, drill bits, wear and tear on the rigs, fuel, and wages for the drill crews.
When you sponsor an entire project, you'll be an integral part of the effort from the very beginning to clean water flowing and over the life of the well! We'll show you how all along the way.
Where will the project be built?
Currently, we're working to fund new wells and well rehabilitations at schools, medical clinics, and churches and community centers in Kenya, Sierra Leone, Uganda, South Sudan and Rwanda. Individual sites are each open to the public and can serve large groups of people.
Our teams and partners prepare each community for their new water well project. They ensure the community is committed to the project, and in most cases will require some form of investment of time and/or money on their part. This is a critical step to ensure that a water project is sustainable so that your investment has the longest possible effect.
How many people will each water well or project serve...for how long?
We're committed to providing a reasonable estimate of well usage. It doesn't help anyone to overstate the true impact of a well.
Most of our recent projects actually serve about 500 people, which we consider the upper end of a resonable limit for any hand-pumped well.
Still, the number of people who use a well will vary by location. If you've seen claims of wells serving thousands, ask questions. It's important to realize that simply because a community has a population of 1,000 people, it does not mean a single well can serve them all.
An overused well won't last very long.
Managing a water project over time is just as important as how many people it can serve. To make sure the projects we fund last as long as possible, we go back and check to find out what's working and what's not. We work hard to do the greatest good with your gifts.
Properly maintained, each pump can provide clean, safe drinking water for upwards of ten years or so before needing a complete overhaul or replacement. Some locations will last longer, some will not.
Will I get to see it?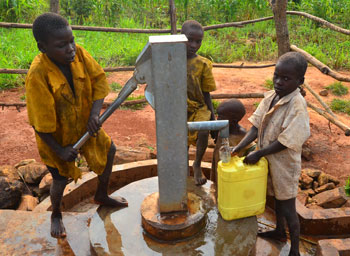 Yes, of course! Our well drilling teams are great at sending pictures and updates back to us as they work. We'll pass those on to you through our Project Updates - listing you and your team as the sponsors (you can choose to remain anonymous too).
You'll be able to track your specific project from its beginning, through construction and for many years to come.
How can I be sure it was built?
Proving water projects and wells is hard work, but we believe it's essential to building trust through transparency.
We ask our drillers to send pictures of the actual drilling process when possible. In many cases we're provided with before and after photos.
In addition to pictures, we insist that every well be documented with Govt. drilling permits and GPS coordinates. We have folks on our team visit random wells, using these coordinates, to keep everyone honest.
Finally, we ask for itemized expense reports and copies of deposit/withdrawal forms from the banks to which we wire funds for projects. We trust our teams, but also try to remove any opportunity for others to question their integrity.
Can I go to Africa to help build the water project?
At this time, we are not able to ensure either safe travel or participation by volunteers at water projects in the field.
Well drilling is specialized work carried out by trained professionals and it is often quite dangerous. Our teams, made up of local drilling techs, don't have the ability to manage visits while they work.
The locations in which they work are often very remote and not frequented by foreigners.
If you are interested in sponsoring an entire well, or even just a portion, we've got a couple great tools to help get your project off the ground...
Take The Water Challenge »
If you want to know how your class, school, club, church or other group can get involved and help bring clean water to thousands of people check this out.
Start a Fundraiser »
Start a personal fundraising page so you can collect and track your project online. It's a great tool to help spread the word and encourage your team!

No problem. Just drop us a line or call 704-918-1804 and we'll get back to you right away!