How Water is Filtered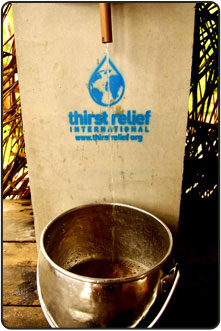 The concrete Biosand filter is an innovative version of the slow sand filter specifically designed for household use. These filters are built locally using available materials and labor. As with the other types of water projects we support, we are meeting the clean drinking water needs of the region and providing needed jobs. Each community is a full participant in the project.
The Biosand filter is comprised of a container - plastic or concrete - and is about the size of an office water cooler. It has an inset plastic pipe and is filled with layers of sand and gravel. Dirty water is poured into the top of the biosand filter, where a diffuser plate evenly distributes the water over the sand bed layer. The water travels down through the sand bed, passes through multiple layers of gravel, and collects in the plastic pipe at the bottom of the filter. The clean water then exits through the plastic piping for a family to collect in clean containers.
The removal of contaminants and disease causing agents is possible due to a combination of biological degradation and mechanical filtration processes. The organic material present in the dirty water is trapped at the surface of the sand bed, forming a biological layer, or "schmutzdecke", which actively removes pathogens and contaminants. The drinking water produced with the Biosand process is tasteless, clear in color, odorless and safe for drinking.
Studies have shown the Biosand filter can remove more than 90% of bacteria and 100% of parasites, dramatically increasing the safety of the water.
Thirst Relief International
We're working through Thirst Relief International in support of Biosand projects in Africa. Our first projects in partnership with them will take place in Cameroon. You can read more about the project, see pictures, and read stories from families who are receiving filters at the project website.
How Your Donation Helps
Your gift provides technical assistance and supplies (plastic container, concrete, forms, gravel) so that communities can build these Biosand filters for distribution to homes in their village. You make it possible for them to help themselves.
The Water Project works hard to keep administrative costs to an absolute minimum. We have other donors who recognize the importance of keeping the lights on and paying for the internet connection, so you don't have to. Your donation to a water project will go directly to those groups bringing clean water to Africa.
On average a single filter costs a total of $70 to construct and install for a household of 10-15 people. Most communities are also expected to raise additional funds to support the projects.
Individual Biosand filters can be sponsored by donors and we'll tell you into which project your filter was installed. Because of obvious privacy concerns and administrative expense, we're not able to link you to a specific family or filter. We'll be helping install thousands of these!
Groups however can sponsor entire villages or neighborhoods and receive photos and updates as their projects are implemented.