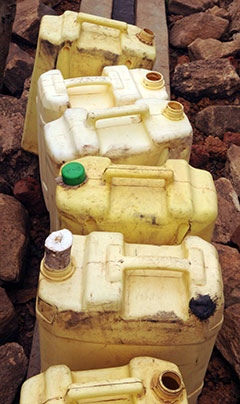 We believe deeply in end-to-end transparency and accountability. That means not only showing every outcome, but also being honest about every cost.
Anyone can dig a hole. Anyone can attach a pump. But making sure a water project is sustainable and reliable takes time, expertise and a commitment to honest evaluation. The Water Project funds full life-cycle project costs, from here to the field and into the future. We demand our partners disclose the true costs of installing and maintaining a water point, as best they can.
We know that claims of "low cost" wells or "life-time" access to water for $20 a person are just that... claims. Everyone knows the costs are higher and the outcomes less certain. Claims to the contrary cheapen the work and ultimately disrespect the communities being served.
In addition to revealing true project costs, we also provide realistic assessments of the number of people a given water project can truthfully benefit. Quoting a general population count, instead of more realistic usage figures, inflates perceived impact and may actually discourage further necessary investments. Our goal is to see water available and reliable in an entire area.
Transparency and accountability are about making a commitment to serving others first, with excellence. Done right, our supporters always benefit as well.