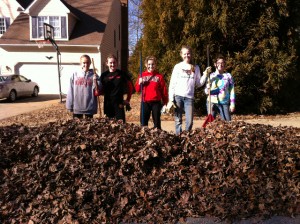 Not sure how to raise money to help fund a well?  Here's an idea…
This past fall, Hannah and her friends decided to raise money in their North Carolina neighborhood by doing yard work and donating the profits to The Water Project. Hannah and four of her friends raked and bagged leaves for their neighbors.
With just a few simple tasks, they were able to raise over $1,000 to help fund a well! And so not only did they help their neighbors with their leaves, they are now helping their global neighbors find clean, safe drinking water. Their creativity and hard work will make a real difference in many lives. Soon, a community in Sierra Leone will have a newly repaired well.
You can follow the progress of that project here at http://thewaterproject.org/community/projects/sierra-leone/full-wash-for-a-school-in-sierra-leone-567/