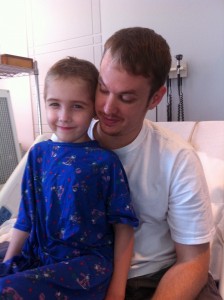 "Every day we make something, we learn something, and we try to love people."
That's the goal, every day, for the Lowe family from Abilene, Texas.
We met Matt, Amy and their two children, Liam and Mary when they called recently about starting a fundraising page so that Liam, pictured here with Dad, could love people by helping build wells in Africa.
As we read through Liam's page, we met a remarkable young man who has spent many months over the last year battling leukemia in a Texas hospital.  Things had been going well.  Liam had even recently been home for a month in Abilene, in remission.
But Liam soon spiked a fever that just wouldn't go away.  While checking up on the fever and a few other symptoms in the emergency room, they discovered his cancer was back.