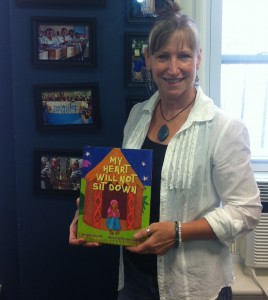 What are you reading this summer? A great spy novel perhaps? A mystery that has you on the edge of your seat, reading long into the night when you should be sleeping?
Here at The Water Project we have a reading list.  We challenge each other with concepts from the books we read.  Books on international development and theologies of service often top the heady list.  But this summer, it wasn't one of those books that touched me the most. Instead, a little book that Becky Pichler told us about really grabbed my heart. Becky is a teacher from Wilson Elementary in West Allis, Wisconsin and she shared with us how her classroom of 4th and 5th graders read My Heart Will Not Sit Down together this past year.  Then, in response, they worked together to help fund a water project!
The story takes place in Cameroon where the main character, a young girl named Kedi, learns about the Great Depression of the 1930s and of children in New York City who didn't have enough to eat.  Kedi just couldn't forget the children in New York and her 'heart could not sit down in peace' until she did something to help.
One passage really captured my attention.  In it, we hear Kedi's Mama question her plans to help. (more…)