September, 2018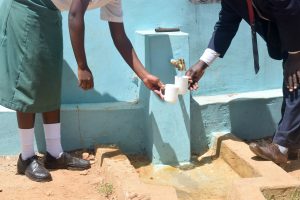 A year ago, generous donors helped build a rainwater catchment tank for students at Muthei Secondary School. The contributions of incredible monthly donors and others giving directly to The Water Promise allow teams to visit project sites throughout the year, strengthening relationships with communities and evaluating the water project over time. These consistent visits allow us to learn vital lessons and hear amazing stories – and we're excited to share this one from Titus Mbithi with you.
---
Muthei Secondary School is still a young school, but it has experienced rapid growth with the presence of water on campus. This water has saved the school money that is now used for our development projects such as constructing new classrooms. Muthei Secondary has been a day school, but they are discussing plans to open a boarding section that will host students who walk long distances each morning.
"We no longer buy water anymore. This saves the school around 8,000 shillings ($80) per month… The savings are being utilized in implementing development projects in our school," confirmed Principal Wambua.
"Now, we have enough water supply in school, which has made handwashing a reality and creates a high level of hygiene and sanitation."
17-year-old Caroline Munini remembers the school days without water.
"Now, we are getting enough clean water in school which has created satisfaction among students. Cases of stomach problems used to be rampant, but with the new water source and handwashing points, the cases are minimal," she said
When asked about any continuing challenges, Caroline honestly responded that water has solved a majority of her problems.
Constructing this rainwater catchment tank was only one step along the journey toward sustainable access to clean water. The Water Project is committed to consistent monitoring of each water source. Our monitoring and evaluation program, made possible by donors like you, allows us to maintain our relationships with communities by visiting up to 4 times each year to ensure that the water points are safe and reliable.
This is just one of the many ways that we monitor projects and communicate with you. Additionally, you can always check the functionality status and our project map to see how all of our water points are performing, based on our consistent monitoring data.
This is only possible because of the web of support and trust built between The Water Project, our local teams, the community, and you. We are excited to stay in touch with this community and support their journey with safe water.
Read more about The Water Promise and how you can help.
See The Water Project in Caroline Munini's Community »