December, 2017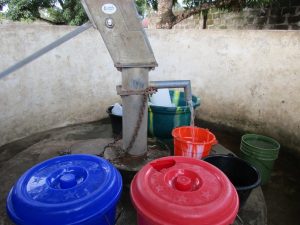 A year ago, generous donors helped construct a well for the community in the Amina area of Lungi, Sierra Leone. Because of these gifts and the contributions of our monthly donors, partners are able to visit project sites throughout the year, strengthening relationships with communities and evaluating the actual water project. These consistent visits allow us to learn vital lessons and hear amazing stories – we're excited to share this one from our partner, Madieu Turay, with you.
---
It is exciting to share the transformation and impact that clean water has made in one of the oldest communities in Kaffu Bullom Chiefdom! The water, along with sanitation and hygiene training, inspires new dreams.  Kelfala Bangura, the chairperson of the water user committee that maintains the well proclaims, "I normally tell my kids that water is life. I hope this safe water and the little message that we have from this organization will increase my age to one hundred and twenty years." This work is about improving the length and quality of life for many in the community, and Mr. Bangura is able to make new plans because of this work.
The benefits extend from the elders and chairmen and women in the community to the young students trying to get through school.  Ann Marie Sesay, age 10, shares, "I was not going to school earlier due to the distance of the well to my house. Now I can go to school on time. Before I would go to the swamp to fetch water, but now I can go to the well and am only late about five minutes to school."
The improved health environment that has come through clean water and sanitation has enabled Ann Marie to dream big too!  Access to clean water improves access to education, which opens countless possibilities for a ten-year-old!
---
The need in this area is high and there is more work to be done, but we are excited to stay in touch with the community around the well at 22 Sesay Street and report the continuing ripple effects and positive stories.
The Water Project and our partners are committed to consistent monitoring of each water source. Our monitoring and evaluation program, made possible by monthly donors, allows us to visit communities up to 4 times a year. Read more about our program and how you can help.
See The Water Project in Ann Marie Sesay's Community »