June, 2022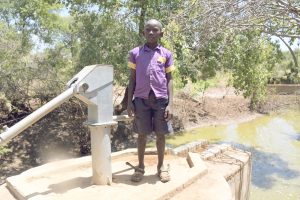 Before we installed the sand dam and shallow well in Syonzale Community, obtaining water for everyone's activities was a constant struggle.
"We had to walk for about two kilometers searching for water from the rivers, which was exhausting and time-consuming," said 13-year-old student John M.
"This negatively affected my academic performance since I had less time and energy to focus on my studies. Personal hygiene and sanitation were also negatively impacted due to the rampant water scarcity. Our livestock could also succumb to the long droughts because of the long walks to the scoop holes under the scorching sun."
But now, with a sand dam and well so close to home, Syonzale's people have much less strife to contend with and more time for life's joys.
"This water point is close to my home, thus getting water is no longer a time-consuming and tedious task," John continued.
"I now also have enough clean water to drink and improve my personal hygiene and sanitation. My academic performance has also improved because I have more time to study, unlike before where I could spend a lot of time going to the river after class."
And people are not the only ones benefiting from the water projects: plants and animals also thrive alongside people.
"Our vegetables and livestock also give us better yields to supplement our diet because we now have adequate water for irrigation and animal watering," John explained." My school is also close to this water point and we use its water to clean our classrooms and water tree seedlings."
See The Water Project in John's Community »